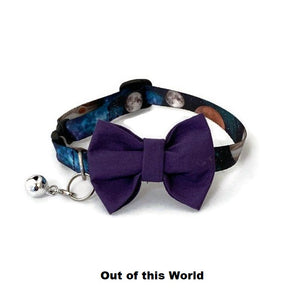 Collar, Cat - Out of this World, Polyester
Space enthusiasts will love this cat collar from Halzband. Our "Out of this World" style cat collar features the moon and planets from the Solar system and is handmade with pride and craftsmanship in the USA.
100% polyester webbing collar material provides ultraviolet, rot, mildew and moisture resistance
Breakaway safety buckle allows for quick release to minimize snagging on fences, branches, or other hazards
Stainless steel D-ring for attachment of pet identification tag
Copper-plated cat bell, with split ring + lobster clasp for attachment to D-ring
Purple cotton bow secured in place with dual Velcro strips
Adjustable neck size from 7 to 12 inches. Band width of 0.5 inches.
Handcrafted in Austin, Texas. Spot clean by hand only.
Includes free shipping and delivery within 5 to 10 days. We do not use any third parties to ship our products. Our family ships directly to customers from our own US-based warehouse.