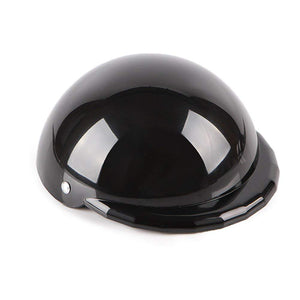 Rebel Dog "Biker" Helmet
Only a biker can really understand why a dog sticks his head out of a car window. It's about freedom. It's about feeling alive. Dogs know this. And if you're a rebel, you know it too. This faux German-style "biker" helmet for dogs is made of plastic + ABS, features an adjustable strap with breakaway clasp, and is just the thing for that rebel look. Designed to be worn only by dogs, the opening circumference of the helmet is 4 inches around for small, 5 inches around for medium, and 6 inches around for large. The helmet is for looks only (and fun!) and not designed to provide any protection from injury. But at least your dog won't have to worry about helmet hair! Limited stock on this specialty item, so order while supplies last.
Delivery is within 5 to 10 days. We do not use any third parties to ship our products. Our family ships directly to customers from our own US-based warehouse.